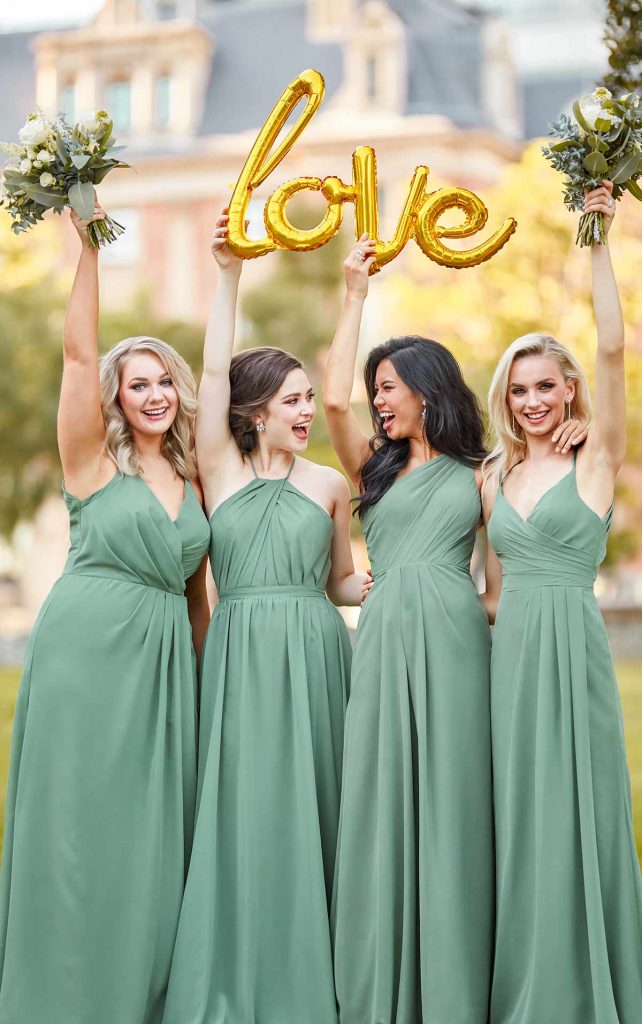 Designer Bridesmaid Dresses
We can't wait to help you plan your perfect wedding-day look! You're going to love our huge selection of versatile bridesmaid dresses by today's top designers, including Christina Wu, Jasmine, B2, and Belsoie. These gorgeous formal dresses are perfect for other special occasions, too, when you want to look your best.
The Bride and Her Bridesmaids
At Wendy's Bridal we believe that the bond between a bride and her bridesmaids is sacred. These are the women who have been there with you through thick and thin, and are going to be at your side on the most important day of your life! Together, you will all be the center of attention. After everyone looks at the bride, they look at the bridesmaids, eager to see the dresses and talk about the styles you picked out. Let us help you get the ooh's and aah's you deserve.
When you come in to the store, you will get your own professional bridal stylist who will help you tour the collection and choose the styles closest to your heart. She will listen to everything your trusted bridesmaids say, while making sure that the final decision is true to what you, the bride, want for your big day. It has to "feel" right as well as look right. Just like your bridesmaids, we'll be there for you—and we will get you the gown and bridesmaid dresses that truly make you shine!
The Best Selection of Designer Bridesmaids Dresses in Cincinnati
You may have found that some bridal shops focus purely on the wedding dress and don't offer many (or any!) bridesmaids dresses. We've made it our mission to become the go-to source of fashion-forward bridesmaid dresses for any type of wedding. For more than 40 years, we have set the standard for bridesmaid fashion by offering the biggest selection.
Full lines of matched bridesmaid dresses to accompany many of our designer bridal gowns
More size selection to make sure all your maids look great
Budget-friendly bridesmaid selection with many dresses under $200
Trained bridal stylists will help you find the perfect silhouette, fabric and color for your wedding vision
Your Girls Deserve To Shine
Your bridesmaids are your besties, your support network, and your companions as you take on this wedding. Just as they're helping you make everything perfect for your big day, you want them to look and feel like they're part of something special.
Come to Wendy's Bridal and you'll discover top-name designer bridesmaid dresses at a price that works for everyone's budget. Whether you want something by the same designer as your bridal gown, or something that matches in style or theme—or even something completely different—we can do that!
Ready to shop? Just call or email to schedule your appointment with one of our bridal stylists.
Subscribe to our email list and be the first to find out about our exclusive trunk shows and popular sample sales!